Best Things to Do in Morocco
Morocco has activities for travelers of all ages and interests. With such a diverse landscape — from plains to mountains to coast and desert — Morocco is a great place both for both adventure and relaxation. Check out our list of favorite things to do, below.
Hiking in the Atlas Mountains
If you're looking for action and enjoy hiking (either easy, moderate or demanding and for short/long duration), then the High Atlas Mountains await. And, of course, there is always the option of ascending Toubkal, the highest summit in the High Atlas. Overnighting in riads, gîtes, tents are all options, as is staying in a Berber home.
 Kitesurfing on the Atlantic Coast
Morocco is rated one of the best destinations in the world for kitesurfing. The Atlantic wind conditions, warm summer waters, the many hours of sunshine throughout the year and the Moroccan charm of the Atlantic coastal towns and villages make it a great kitesurfing destination. Agadir, Essaouira, Azemmour (south of Casablanca) offer excellent kitesurfing conditions as well as on-shore facilities. Sidi Kaouki (south of Essaouira), a most charming, relaxed place, has exceptional conditions throughout the year. 
This activity requires an early morning start when the air is cool and clear. To soar over the land and villages of the Marrakech Plain and Jbilet mountains, for example, offers wide, panoramic views. Traveling serenely in the tranquility of the balloon's basket, under the professional pilot's command, new patterns perspectives are gained from the sceneries and activities below.
This activity can be done almost in any location of Morocco, from short trips demanding only light effort (e.g. on routes across the glorious Marrakech Plain) to moderately demanding trips in the foothills of the High Atlas (e.g. in the forested lands around Amizmiz) to demanding, multi-day trails, in the higher valleys of the High Atlas.
The Sahara is a great place to enjoy these activities. With acres of room and winds that soon cover over any tracks made, this is an invigorating way to experience the desert and its dunes. 
Camel Trekking in the Sahara Desert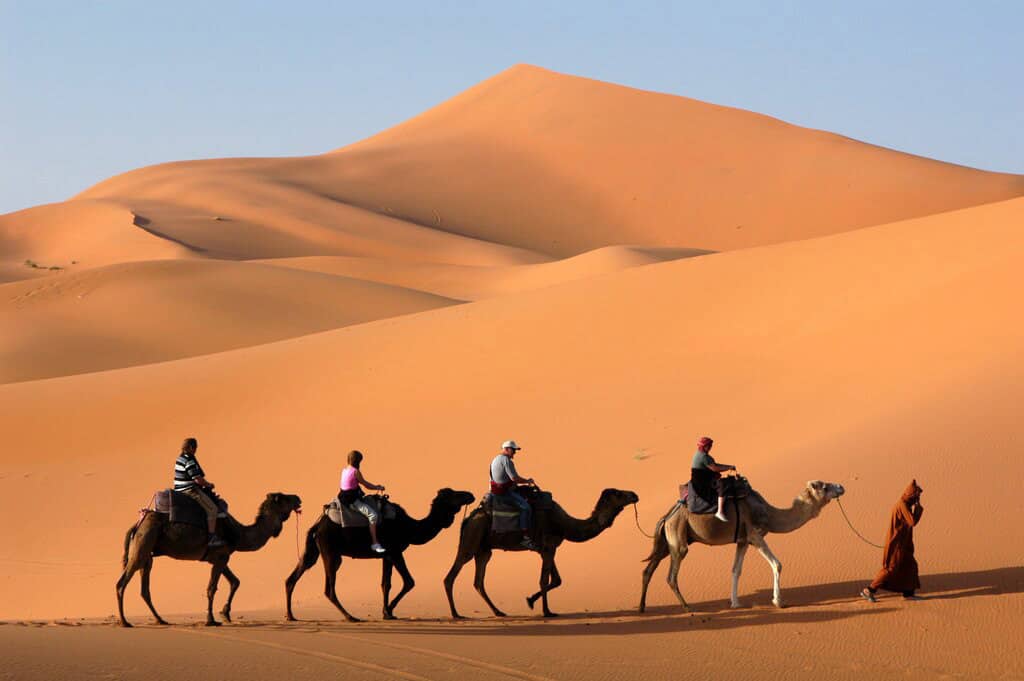 For a more tranquil experience of the desert environment, a camel trek provides just that. A camel trek can be for a short duration, it may be used as a way to ascend a high sand dune for a sunset viewing (or indeed a sunrise) and/or it may be taken over a day or two (or more) if you truly want to become enveloped by your desert experience and traditional way of life. 
A hammam is a traditional cleansing steam "bath", a typical feature of many rural homes that continues to this day. However, many modern up-market versions are available as luxurious saunas with many optional extras such as various massages (head and neck to full body) and aromatic and herbal therapies. Pampering in this way may be for gentle relaxation or as a reward after some strenuous days out traveling/hiking. Either way, a hammam experience is a delight and guaranteed to unwind and relax both mind and body.
 Exploring Souks and Medinas
The Medina area of many towns and cities in Morocco are the old, often walled, city center areas. Here there is a jumble of narrow streets and alleys that are hives of activities and a feast of colors, sounds, and smells. In Marrakech, for example, the Jemma El Fna is the central area of its medina, an open area filled by day with musicians, snake charmers, fortune tellers, henna painters and much more; by night, outdoor restaurants are set up so that traditional Moroccan foods can be enjoyed in an enthralling atmosphere.
The Souks lead off from the Jemma El Fna and they are a labyrinth of fascination where stallholders are selling their wares, haggling over prices; it is much fun to enter into haggling when you are tempted to purchase. As well as sellers, there are many small workshops too, woodworkers, metalworkers, shoe repairers, tailors. A visit to a traditional apothecary is very interesting, learning about herbs and spices and their culinary and medical uses.