Jewish Culture & Heritage-Tour
Morocco Culture Travel team makes Jewish history come alive through its knowledge, stories and by actually taking you to the places where Jewish history was made and is still alive. You will have an insider's view of a Jewish heritage not found in guidebooks.We are able to offer you in both group and private a tour around the hidden and the famous Jewish Heritage destinations in Morocco, using all capacities organize everything efficiently throughout the trip to meet your needs and requirements.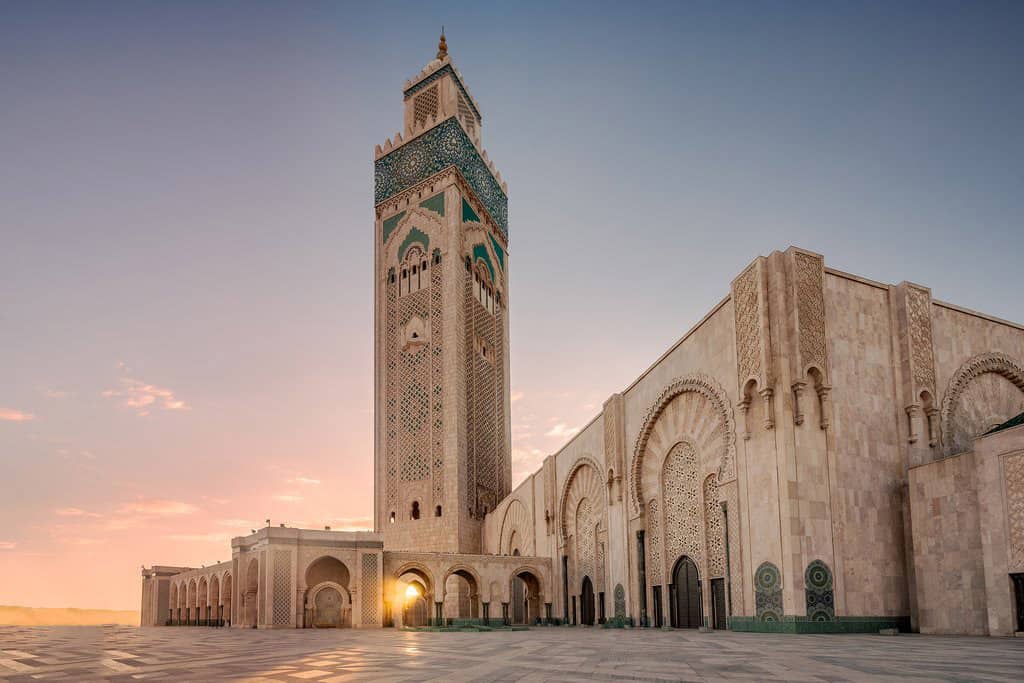 Day 1 – From Casablanca To Rabat
– Assistance and welcoming in Casablanca-Airport;
– Checking and arrangement of your luggage at the Hotel/ Riad ;
– Depending on arrival time, you will visit the city, including the following highlights :
– Habbous Quarter, the United Nations Square, the exterior of the royal palace and the internal visit of Hassan II Mosque.
– Casablanca harbors the largest Jewish community in Morocco,  Visit the Mellah (Jewish quarter) with its temples and synagogues such as Bet-El, Em Habanim and Neve Shalom.
– Jewish Museum:  It presents religious, ethnographic and artistic objects that demonstrate the history, religion, traditions and daily life of Jews in Morocco.
Dinner and overnight in your Imperial Hotel /Riad.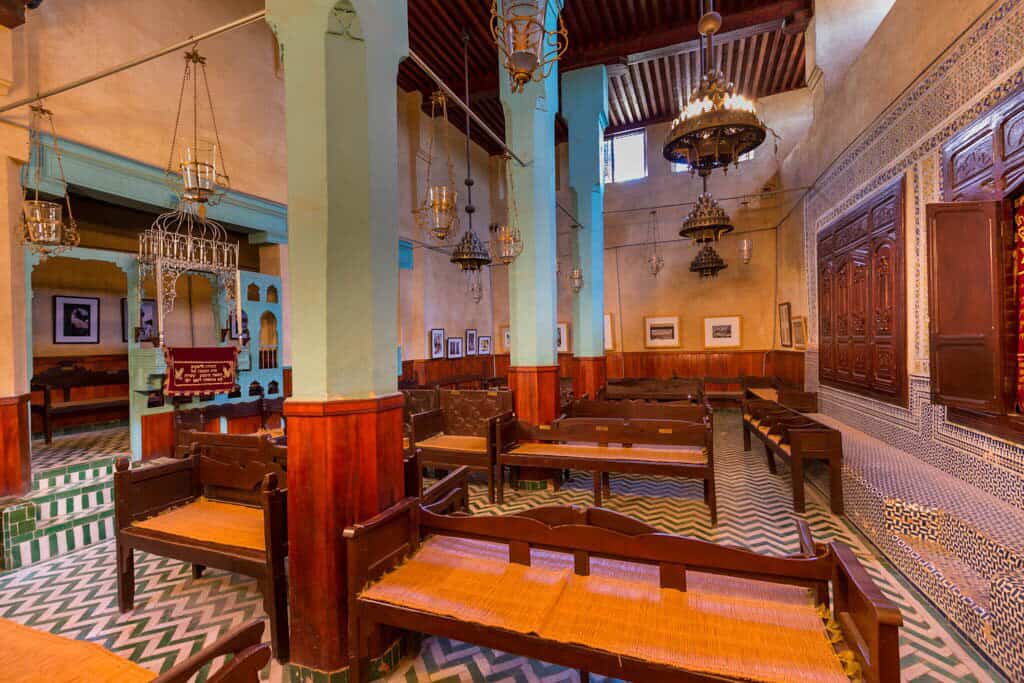 Day 2 – Rabat-Meknes-Volubilis-Fez
After breakfast, you will start Rabat city-tour with a trip to the Chella Necropolis, a royal burial ground built over the ruins of a Roman port city. afterwards, move on to the mellah, an ancient, fortified Jewish quarter built in the 19th century by the ruthless sultan Moulay Slimane. These mellahs exist in many of Morocco's cities as relics of an unfortunate past.
Complete Rabat tour by visiting the Oudaya Kasabahs and the medina before transferring to Meknes where a Jewish community of  15,000 people settled in the mid-20th century, visit  both Meknes mellahs and  synagogues. After Meknes, you  will head off to the Roman ruins in Volubilis, an unforgettable site, having been selected by the UNESCO as a cultural heritage for humanity. We will then stop in Moulay Idriss, one of the most venerated Islamic destinations in the country, before reaching  Fes city.
Dinner and Overnight in Fes.
Day 3 – Visit The Jewish-History  In Fez
Fes is among the best known cities in medieval Jewish history, it was home to one of the most influential Talmudic scholars of all times, Rabbi Isaac Alfasi, as well as Maimonides in the years 1160 to 1165. Visit the Mellah with all its synagogues, also an optional visit to Bhalil and Sefrou, visit the cemetery where Rabbi Lahou Harroch and Rabbi Raphael Moshe Elbaz are buried within the Mellah.
Return to Fes, dinner and overnight in your Riad/ Hotel.
Day 4

 

– Fez- Guided-Tour In the Old-Medina
A citadel of magnificence, this age-old city is irresistible as it unfolds– in every narrow alley, wide street, old or new medina, palatial houses or hillsides– the story of a whole civilization's treasure, similar to Florence or Athens. From being Morocco's first capital in 808 AD to becoming the Imperial of all Imperial cities, Fez is a spiritual and cultural center with many facets. Your two-day stay in this unmatched splendor will take you back in time while visiting the oldest university in the world (before even Oxford or the Sorbonne University).
Day 5 – Atlas-Forest & Mountains – Merzouga-Morocco Desert
After breakfast, departure to Erfoud via Azrou and Ifrane city. It is said that Ifrane was the capital of a Jewish kingdom in the far off past.
you will have the chance to visit synagogues and  cemeteries, which has been the center of pilgrimage for Moroccan Jews for centries. Stop in Midelt and continue toward Sahara Desert Morocco to enjoy the sunset in Merzouga-dunes.
Sumptuous dinner and overnight under a Berber tent in Morocco Desert. 
Day 6 – Sahara Desert Morocco -Todra -Gorges – Ouarzazate
After another breathtaking view of the sunrise, you will head off to Todra Gorges known for its impressive bare escarpments. Continue to Tinerghir and visit its Mellah gateway and the ancient colorful Jewish quarter.
Departure to Ouarzazate via El Kella Des M'gouna and visit of Tiliit (5 miles from Kellaat M'gouna), known as the ancient city of Jews of the Dades. The fortress of Tiliit has been the center of Jewish region ruled by the Spanish – Jewish family of Perez from the end of the 15th century until the reign of Moulay Ismael in 1672.
Dinner and overnight in Ouarzazate
Day 7 – From Ouarzazate To Marrakech
After breakfast, visit  Taourirt and Tifoultout Kasbahs, ancient residence of Glaoui-famil. Then, reaching Marrakech via Tiz-in-Tichka pass (2260m) and Taddert. Afternoon sightseeing-tour of Marrakech where the Jewish community increased in 1603. The Saadian dynasty, made Marrakech their capital, and converted the El Badii Palace as a Mellah which became a home of a thriving community of native Spanish Jews, famed for its rabbinical schools and scholars.
Visit the Rabbi Hanania Hacohen Cemetery which is also the burial place of Rabbi Mordekhai Ben Attar and Rabbi Pinhas Hacohen Azough known as the "patron of Marrakech."
Dinner and overnight in your authentic Hotel / Riad.
Day 8

 

– Marrakech's Guided-Visit
Day devoted to visit Marrakech, the second oldest imperial city, see Badii and Bahia palaces, Saadien's tombs, Dar Si Said's museum, Menara Gardens and Koutoubia Minaret.
In the afternoon, strolling through the narrow streets of the old medina , discovering artisans still working in the old-age traditional way. End up at Djemaa El Fna Square, considered to be the most famous and popular place in Marrakech.
Dinner and overnight in your Majestic Riad / Hotel
Day 9 – Flying From Casablanca – Airport

 
– Early Transfer from Marrakech to Casablanca – airport;
– Checking, assistance and boarding formalities in the airport. 
 Start Planning Your Trip Now