3 Days Tour From Ouarzazate To Marrakech
3 days tour from Ouarzazate to Marrakech via Merzouga desert We will pick you up from Ouarzazate and visit Rose Valley, Todra Gorges and reach Merzouga. There, you experience a desert tour by 4×4 and a camel trip. Secondly, you explore the Anti-Atlas Mountains and the Draa valley.finally you visit  Ait Ben Haddou Kasbah and end our tour in Marrakech. 
Day 1: Ouarzazate – Todra Gorges-Merzouga
Our 3 days tour from Ouarzazate to Marrakech via Merzouga desert covers the Atlas Studios in Ouarzazate. So, we pick you up from the airport and visit this site. Many movies filmed here, including Gladiator and Game of Throne. Besides, we drive to Skoura and Rose Valley. Secondly, we will stop in Todra Gorges to explore the oasis that goes aside from the canyon. Then, visit Touroug village to visit Berber cloth cooperative and head to Erfoud. Finally, we drive to Erfoud and spend a night in Raid/Hotel/. The dinner is included.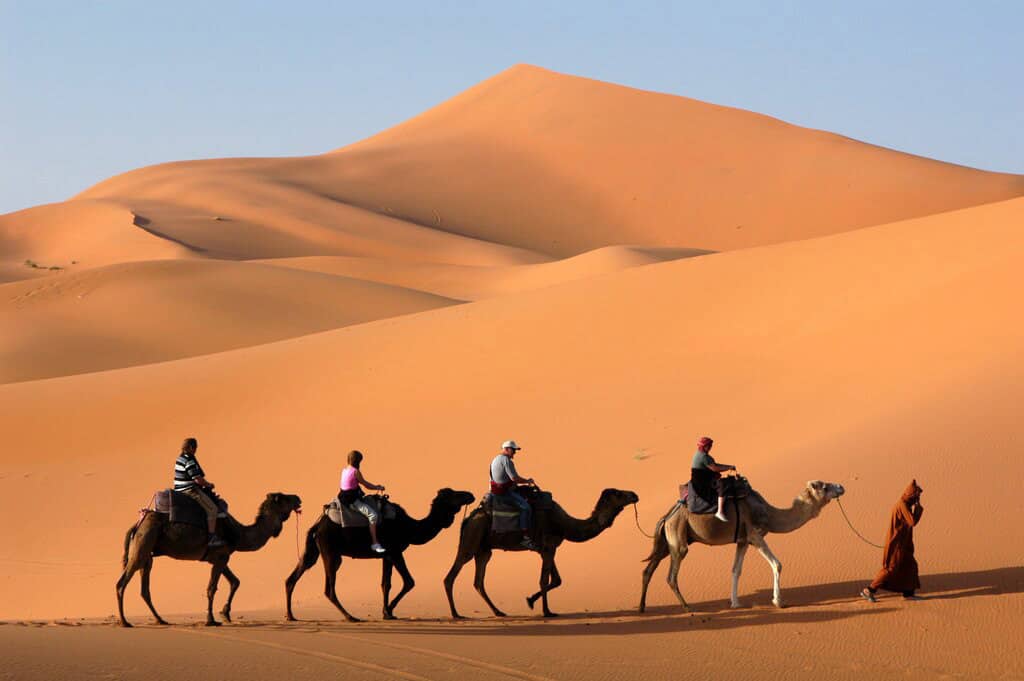 Day 2: Merzouga Day Trip and Camel Trip
After breakfast, we drive to explore desert areas. Firstly, we will go to Khamlia Village to enjoy the Gnawa music of dark skin people. Then, we move to figure out an old factory of mines in Mifis. Secondly, we meet nomads who still live in hand-made tents and have Berber pizza for lunch there. Further, you visit the desert's lake and see different kinds of birds. Finally, you ride camels to the camp. You will enjoy the sunset view on the top of the dune. After having dinner at the camp, you enjoy music with locals around the fire.
Day 3: Merzouga- Draa Valley-Marrakech
Today, we drive along the Draa Valley. Once you enjoy the sunrise view and have a shower and breakfast, we resume our tour. Therefore, we drive to Rissani town and stop in Agdez for lunch. Later on, you discover the longest river in Draa Valley. Next, we insight stretching mountains of Ani-Atlas Mountains. Also, we head to Ait Ben Haddou Kasbah via Ouarzazate. It is the oldest Kasbah in Morocco as the caravan route station for trades. Finally, we drive along with Tizi-N-Tchka mountain pass views and arrive in Marrakech. Here, we drop you off at your Raid or airport and end our service
Start Planning Your Trip Now